OM - teahouse studio
My one moment this week? They are several all rolled up into one place and one class and creativity and friendship. Last weekend, my friend Jen and I escaped to San Francisco to take a class at
The Tea House Studio
, in Berkeley. The class was taught by
Andrea Jenkins
of
Hula Seventy
. I realized during the first five minutes of class that I need creativity, learning and other people surrounding me that "get it" as my friend Kath always says, all the time.
What did she teach us about? Polaroid Cameras, film and the history behind that beloved instant camera. We talked about cameras, types of film and
the impossible project
; we had lunch and connected and then we all dispersed and went on a photo walk. The photo walk will be something that I will add to my weekly creative moments. It was amazing to see what you can find in your surroundings when you slow down and take a closer look.
Upon returning to the studio we all placed our photos on the wall and spent some time talking through each person's experience. All I can say is WOW what an amazingly creative group of women.
That's my friend Jen placing her photos on the wall. Thank you to,
Mati, Stef and Tiffany of the Tea House Studio
. Thank you
Andrea Jenkins
of hula seventy and thank you to
Andrea Scher
(who stopped by during class and was so lovely to meet in person) What an awesome moment......
One moment is a meetup created by Linda of A La Mode Stuff  intended to incorporate the little moments of your life and help you to slow down and take a moment to enjoy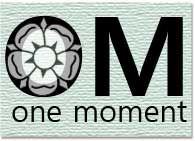 ---
4 Responses
Leave a comment